Want your Inspirery interview to rank on page one of Google for your name?
Follow my expert tips below to best optimize your interview for page 1 ranking.
NOTE: This is not a guarantee that your interview will rank on page 1, but following these SEO best practices give you the best chance of ranking your interview highly.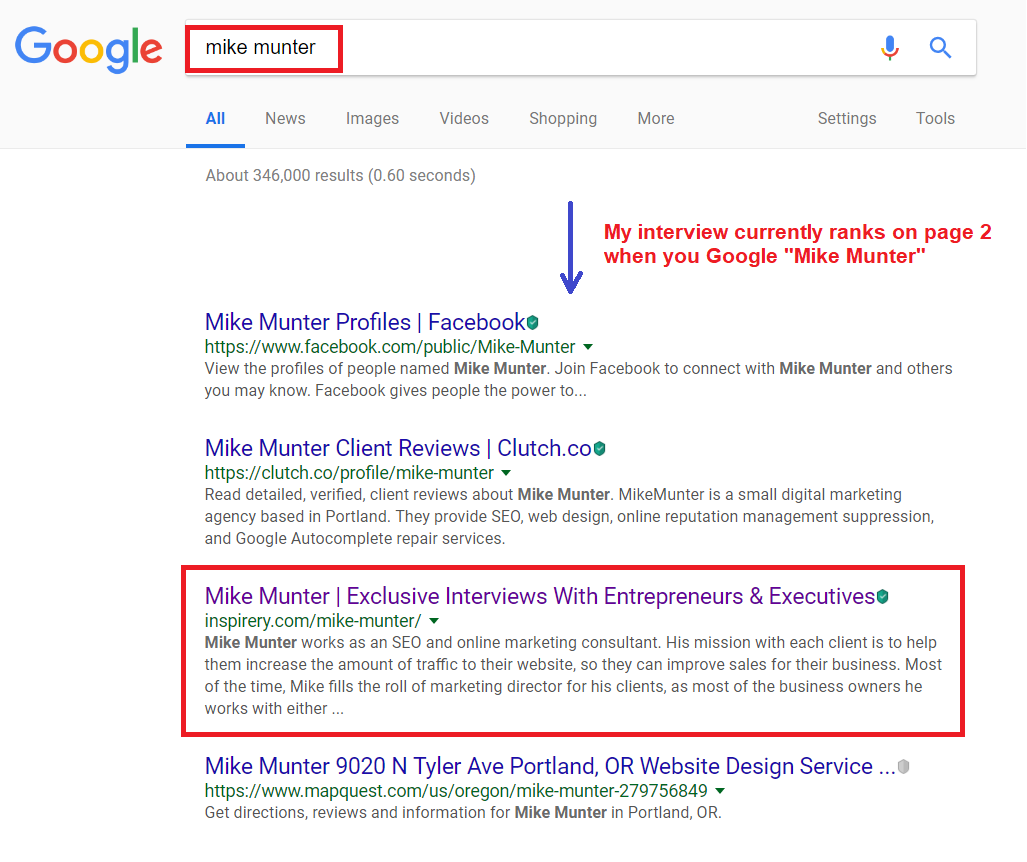 Mike's Tips For Best Ranking In Google
1) Name in title. Put your name first in the title. For example, I want my interview to rank well for my name "Mike Munter" so look how I've made it the first thing in the SEO title.

2) Name in URL. The URL is the bit that appears after inspirery.com/put-your-name-here. Notice how I've done this for my name: http://inspirery.com/mike-munter/
3) Name in H1. On Inspirery, this is done for you by default, but on other sites you might need to ask the webmaster to do it for you.

4) Name in content. Notice how I made "Mike Munter" the first words of my interview. You can mention your name a couple times in third person, just don't be spammy about it. Read my interview as an example of how often to drop your name into your content.
5) Make it long. Longer content ranks better! Aim for an interview that is at least 1,000 words. No 1-word answers to questions. Develop your answers and offer quality and value to readers.
6) 100% unique. Don't copy/paste your bio or answers from your website or anywhere else online. Duplicate content does NOT rank well in Google. If Google thinks this interview is unique, it is much more likely to rank better.
7) Share it on your social media. Brag about your interview! Sharing your interview link on your Facebook, Twitter, Linkedin and other social sites helps create authority and drive traffic to your interview.
8) Link to it. If you own a website, link to your interview from your website. Pro tip – use your name in the anchor text of the link, here are two good ways you could do it:
While we can never guarantee that your interview will rank well in Google, following most or all of the tips above will give you the best chance of seeing it on page 1 of search results. Good luck!