Are you the type of person who pays their credit card balance in full each month?
Do you like earning passive income for things you already do?
I'm this type of person and if you are, I'm asking you to use my referral link to apply for a Chase Freedom Unlimited credit card.
"Why would I do that?" you ask.
Because this is one of the best cash back credit cards I've seen.
In addition to receiving 1.5% unlimited cash back on every single purchase I'm making, I am also getting these benefits:
$150 cash bonus after spending $500 on purchases in the first 3 months
No annual fee
Additional $500 cash back referral bonus
It's this last perk that's really got me jazzed up.
And it's why I'm writing this blog post to tell you about it.
Why I Got The Chase Freedom Unlimited Credit Card
I've been seeing a lot of "cash back bonus" credit card offers lately and I'm strategically applying for all of them.
More on that later.
I applied for the Chase Freedom Unlimited card in January 2018 because they are advertising a $150 cash bonus after you spend $500 on purchases in your first 3 months.
That's a piece of cake for me and I'll bet it's a pretty easy goal for you to hit, too!
So, once you spend $500 in the first 3 months, you get a $150 cash back bonus.
To me, that's easy, free money.
In addition, the card features the same qualities I look for in all my cash back credit cards:
No annual fee – why would you ever pay an annual fee?
Real cash back – real cash, not points, miles, or gift cards
Unlimited cash back – my cash back bonus is not capped, so I earn 1.5% on every dollar I spend
No category restrictions – easy to understand, cash back on every dollar spent, no matter where I spend it
The cash back rewards never expire
The Catch: Pay Your Bill On Time!
Of course, the catch is you've got to pay off your balance on time each month – which I always do – so you don't wind up paying late fees or interest charges.
Those fees and charges would quickly eat up all that free cash you're getting back, so make sure if you're going to get the card, you plan to pay the balance in full, on time, each month.
Surprise Incentives: Referral Bonuses!
What's really got me excited about this card is the email I just received from Chase.
It's titled: Earn up to $500 cash back
I delete most promotional-looking emails, but this one sounded interesting.
I took a look and sure enough it's legit.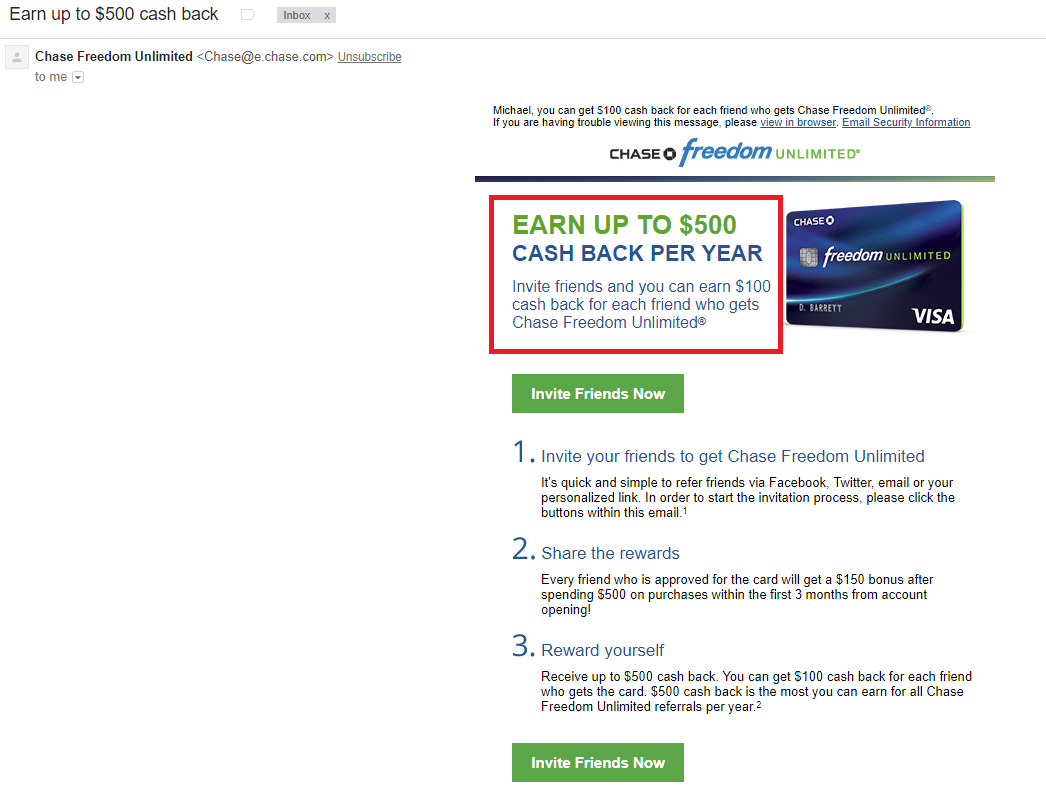 I can earn an additional $500 cash back per year, simply by referring people to Chase.
It works like this –
For each person I refer who gets the Chase Freedom Unlimited card, I earn a $100 cash back bonus.
The only minor drawback is that is it capped at $500 per year, so once I refer five people, that's the max I can earn.
But, oh well, that's an extra $500 a year I get for doing very little work – for helping to spread the word about this card.
I plan to earn that $500 simply by writing this blog post and sharing it.
Are you ready to enjoy the same benefits I am?
If so, click this link: https://www.referyourchasecard.com/18/P91GVQ75FB
Will Applying Affect My Credit Score?
My initial hesitancy in applying for cash back bonus cards like the Chase card was, "Will it affect my credit score?"
I thought about it for a few weeks and then I said, "The hell with it. I have strong credit (TransUnion 801, Experian 757). Let's try it and find out."
In addition to Chase Unlimited Freedom, I've also applied for and received:
Bank of America Business Advantage Cash Rewards – $200 statement credit after spending $500 in the first 2 months
Wells Fargo Cash Wise VISA – $200 cash bonus after spending $1,000 in the first 3 months
The next two cards I plan to apply for are:
Chase Ink Business Cash Card – $300 cash back after spending $3,000 in first 3 months
Discover It – double cash back for the first 12 months
All of these cards also feature no annual fees and cash back rewards.
Will Chase Unlimited Freedom Offer You The $500 Cash Back Bonus, Too?
I don't know.
I didn't notice Chase advertising this $500 cash back referral bonus when I first applied for the card.
I was surprised when they sent me the email promoting it, but now I see it on their website.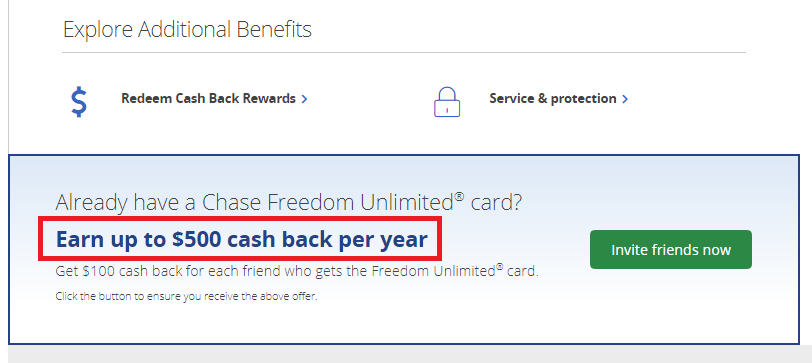 I think the $500 referral bonus is a pretty aggressive offer to help them acquire new cardholders.
I guess if it's working, they'll keep doing it.
All the more reason for you to apply now 🙂
You'll be helping me earn an additional $500 bonus, which I plan to use toward:
A skydiving adventure for Mindi and me, or
Plane tickets to fly my daughter and granddaughter (she's 6!) to Portland for a visit this summer
Note: If you already have the Chase Unlimited Freedom credit card, you are eligible to earn the $500 cash back referral already. Just follow this link and click the "Invite friends now" button.
If you don't have the card, please DO NOT use that link because I won't get credit for you.
Use this special referral link so I can earn a $100 bonus when you sign up: https://www.referyourchasecard.com/18/P91GVQ75FB
But Wait, There's More!
I've always wanted to write that phrase into a blog post, "But wait, there's more!"
It reminds me of the cheesy, entertaining Ginzu knife infomercials I watched as a kid.
But there really is more.
Chase also sent me an email offering me the chance to earn more cash back by adding authorized users.
This offer pays the same 1.5% cash back on all purchases made by authorized users. Plus, if I add the authorized user within the first 3 months, they'll pay me a $25 bonus.

So, if you're married, operate a business, or have other people you'd like to use the card, you can earn $25 extra + unlimited cash back on their purchases, too.
Of course, you also have to pay the balance for their purchases!
I'm not married, but I do operate a business, so I might take advantage of this. We'll see.
This offer isn't as enticing to me as the cash back referral bonus.
Parting Words
I'm not a financial planner or an accountant, but I am really good at making money and helping others do the same.
I especially enjoy earning passive income and am always on the lookout for ways to make money doing things I already do.
That's the key for me, "doing things I already do" – I won't go buy something at Nordstrom just so I can get 35% off.
I want things that pay me to do what I'm already doing as part of my lifestyle and don't require me to spend money I otherwise wouldn't.
For example, I shop at Fred Meyer Grocery here in Portland and utilize their 1% cash back card.
When I fly, I try to use Southwest or Hawaiian because I participate in their miles programs, but if I find a cheaper flight on another airline, I book it.
I don't think you should alter your lifestyle to take advantage of bonuses, either.
If you don't think this card is right for you, don't apply for it.
I applied because:
I pay my credit card balance in full and on time every month
I like getting cash rewards (1.5% on every purchase)
I really like getting a cash back bonus for spending $500 in the first 3 months
And I'm going to LOVEEEE getting a $500 cash back referral bonus for sending new applicants to Chase
I don't know how this will affect my credit score or yours.
But I promise to update this post if there is a change in my credit rating.
If you have any questions, you can email me.
Thanks!
Mike
P.S. Here's my referral link where you can apply:
Earn a $150 bonus with Chase Freedom Unlimited. I can be rewarded too if you apply here and are approved for the card. Learn more.
Connect With Chase Freedom Unlimited Referral Bonus ($500/yr + $150 bonus):